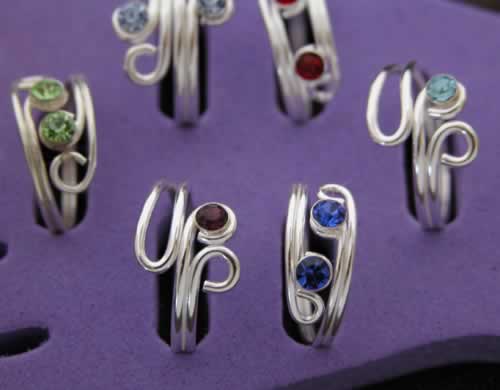 Now is the time to put these cuties up near the register! These little toe rings come in a pack of 12 and include a complimentary neoprene "foot" display. They are sterling silver, made in Thailand. One dozen for $21.60 ($1.80 each)
July Update
All this month we will be running our semi-annual 20% off sale. This is a great time to stock up on the best sellers and new products alike. We only offer this sale twice a year, so don't miss out! Fine print: this offer not valid with any other discounts. Discount may not be applied to lowest price break on pendants or rings by the gram (PGRM & RGRM), or the lowest price on bulk electric cords.
Summer is now in full swing all over the Northern Hemisphere. With the swim suits and suntans, be sure to put out your toe rings. We have several prepacks to choose from at great prices.
One of the strongest trends this summer continues to be shell jewelry. Shell is great because it is rich, lustrous and generally inexpensive. Plus shell goes great with a tan and those sultry summer outfits. We've added several new items here.
Silver prices have moved down to about the $10/oz. range. We haven't seen prices this low since last January. Back then everyone was feaking out since it had gone up from less than $7 in just three months. As you may know, it peaked in May this year at $15/oz. Now at $10, silver seems like a bargain.
We've been concentrating on buying when the price dips, so hopefully things will hold at this level for a while...
Coming in July we will be updating our website with a new look and feel that should improve the user experience. Please let me know if there is anything about the site that you have had difficulty with so that I can incorporate corrections into the upgrade.
Click here to see everything added since the last newsletter.
---
Article: Make your next promo POP!
Retailers are always looking for ways to get new customers in the store. Likewise, most store owners expend a great deal of energy trying to keep their establishment at the forefront of existing customers minds. The great dilemma faced brick and mortar stores is, how can I do this without A) breaking the bank on advertising and B) giving away the store with continuous discounts, sales and incentives.

The simplest and easiest way to get your name out is through traditional advertising channels. The choices for where to spend your ad dollars are endless: radio, tv, newspaper, yellow pages, internet, and more. But before you decide where to advertise, make sure you know why you are advertising. Is it to get new customers, to lure back repeat customers, remind the public that you are still open, or announce new arrivals? Narrowing the focus helps identify the taget audience, which will of course weigh heavily in your decision where to put your message and how much to spend.

Once you have your goal in focus, you can begin to formulate a promotion to achieve that goal. Big blowout sales might require a multi-prong ad campaign with relatively heavy investment. On the other hand, simply announcing that a new shipment has arrived would probably be less cash intensive and therefore would probably mean a narrower marketing channel. Two variables that play into almost any ad campaign are size of the ad and the frequency with which it is run. For many of us, finding the happy medium can be a challenge with a limited budget.

In our stores we are currently testing several promotions to achieve different ends. First, we are trying to attract local customers (as opposed to tourist traffic) by running a sale earrings. In our area there are two choices for print: the daily paper sold at newsstands and by subscription, and a weekly paper delivered to every house on the island.

We had been advertising promotions in the daily newspaper, but costs were high and penetration was hit and miss. For the past couple of months we have been advertising in the weekly paper with results that have been very encouraging. Whenever I am buying an ad, I always ask if there are any specials. Often there are, and I can usually tweak my ad to fit the parameters of the special offer.

Radio advertising can be a mixed bag for small retailers. Ad rates range from very cheap to very expensive, depending on the number of listeners, the station's competition, etc. And once the ad is played it will not be presented to your potential customers again until the next time you pay to have it aired.

Print ads often are seen by more than one pair of eyes per iteration, so they have slightly longer life once they hit the street. We've had good success with one station locally that aims at our 35 - 50 year old women target, and ads are quite inexpensive. I look to them to do the recording and mixing, but like to write the copy since I know my products better than anyone else. You may find it better to provide the details, let them write the copy, then tweak the parts that you think need strengthening.

Some presence in the yellow pages is often necessary. For specialty products like the beads we sell, visitors to our island will frequently refer to the book in their hotel room for direction. Many retailers feel the yellow pages are a must, especially if their competitors are listed. While this may be true in the case a furniture store, it is probably less true with a clothing store that relies on foot traffic in a mall.

Promotions can take various forms, but very often they take the form of a sale. The Payless Shoe Store near me has a "BOGO" (buy one, get one) sale periodically that must attract customers. For our stores, we would consider doing this only with something as a loss-leader or a close out. Customers will take action if your offer is significant to them. 10% off a $10 item is not going to rouse much interest, but 25% of a pair of nice earrings would probably create a stir. A good rule of thumb for incentives is, if it's not worth $5, it probably not worth the bother.

Traditional advertising is the "easy" way of getting the word out. You can buy it and it (hopefully) works. But there are other avenues to consider that might not jump to mind when you consider ways to get bodies in the door. Cross-promotions can be an efficient choice that don't require much cash outlay. Other non-competing retailers in your area may be interested in partnering with you in a mutually beneficial relationship. An example of this would be the coffee shop nest door allowing you to put flyers on their counter to get the word out about your upcoming sale. In return, they might ask you to put an announcement in your window for their open-mic night.

Here in Hawaii we have a steady stream of tourists that stay for just a week. Getting them into our shops presents a special challenge. There are lots of visitor guides we could advertise in, but the costs are prohibitive. Instead, we have found a service that puts a rack card promoting our shops out at various hotels, malls and activity centers around the island. It's an inexpensive way to target visitors specifically. We also make sure our windows are up to snuff, and that they offer something appealing to visitors as souvenirs. For more on this, see our article on window dressing.

Free is still the most powerful word in marketing. On our rack cards we offer a free gift with purchases over $25 if the visitor brings in the coupon at the bottom of the rack card. We have a cute little silver charm with the word "Kauai" on it that we sell for $6.50. It only costs a couple of bucks, but it is a real incentive for visitors to come in.

Getting customers to come back is easier than getting them to come in the first time. Promotions to this end can be particularly effective. Recently I made a purchase at Borders, and after checkout the clerk informed me that if I brought my receipt in next week, it would be good for 20% off my next purchase. There are all kinds of restrictions with their offer, but several people I have spoken to say that they hang on to their receipt and use it the next time around.

We have instituted a similar program in our stores, offering 20% off purchases over $25, valid for a week from the day after the initial purchase. Again, there are restrictions, but people often get excited when you plant that seed.

Community events are also a great way to get your name thrown around at public events. Donations to silent auctions, free giveaways at the Fourth of July Parade, the possibilites are vast. Donations are written off your taxes and cost only a fraction of what the retail value is listed as. Last year we gave away about a thousand calculators with our name and phone number on them to our wholesale customers. Kitchen magnets, pens, balloons, whatever. Promo items don't cost much, and done correctly they can really stick around.

Finally, direct mailing to your customer database (whether snail mail or email) can be very effective. What, you don't have a customer list? If you don't compile a customer list, you are missing out on a very important car on the gravy train! If your customers like what you have to offer (let's hope they do...), then you should be playing directly to their interests. Something as simple as a short email announcing your upcoming sale or a coupon sent to their mailbox can really do the trick. And since they signed up for your list, you know for sure they want what you have, so give it to them.

We send out a monthly email with our beading class schedules and usually offer a coupon that makes the recipient feel special. Customers put their info on a signup sheet near the register, and many are very enthusiastic about the idea. Borders also does this, with great success it seems. Every time I check out there, the clerk asks me if I want to sign up...

Promoting your store takes effort, time and usually at least a little investment. Thinking outside the box for your next promotion may lead to increased sales without much more than sweat equity.
---
Summer Trends:
Long necklaces
Crochet necklaces
Shell, wood, coral, pearls
Velvet and brocades
Hobo bag shapes
Engravings or symbolic jewelry


---
Highlights of the Site
Everything added since last newsletter
New Arrivals section has all the latest and greatest.
New chains have been added.
Vietnamese silk purses cheap!
Close outs section has lots of new items.
Findings & Chain by the inch
Vintage Saris are back in stock!!


---
Don't miss out on the great discount we are offering all month long. Until next time...

Aloha,

Mike McGinnis
Whirled Planet
808-822-2335 tel.
888-408-0072 toll free (US only)
http://indiasilver.com/index.asp
New Arrivals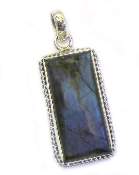 High Fire Labradorite Pendant
These are similar to our best-selling assortment, PGRM, but the stones are of the highest quality with fire and brilliance that will drop your jaw. Each piece is handmade, shapes vary (ovals, rectangles, freeforms). $16.95 average cost, actual cost will vary depending on weight.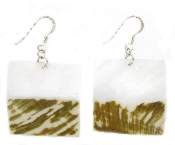 Two Tone Shell Earring
Shell is still hot, and these square shell ear candies are no exception. Natural shell with sterling silver earwire: $3.00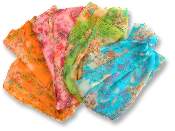 Paisley Breeze Shawl
Gauzy, lightweight and colorful, these lovely scarves sell very well. $7.50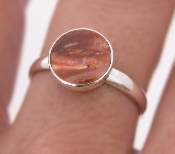 Abalone Disc Ring
Round abalone shell is dyed in a variety of colors, then set in sterling silver for a fun and inexpensive finger ring. $5.50

July Special:
Order $200 this month and get 20% off, including sale items!
Offer not valid with any other discounts, does not apply to the lowest price break on pendants or rings by the gram (PGRM & RGRM), or the lowest price on bulk electric cords.
Our Promise:
You may return any item for any reason. We have a no-questions-asked policy. If you get something you don't like, for any reason, just send it back!
About Us:
All our silver jewelry is guaranteed sterling (at least 92.5% silver), and whenever possible each piece is stamped to indicate this. All our stones are genuine.
Questions:
Please visit our FAQ page for questions about shipping, ordering, payment methods, etc.
Cancel:
We dislike spam as much as anyone. Please reply to this email with "remove" in the subject line to be taken off our list.
Archives:
Visit our past newsletters archived online by clicking here.