Customers will love this wild handbag. Brushed rayon gives the look of suede embroidered with flowers and juiced up with beads, sequins and dangling coins. Somehow all the details work together to make a bag that is both attractive and useful. Wholesale cost: $10.00 Suggested retail: $31.95
June Update
May was a very productive month for us here at the Planet. I went to Thailand for a short 5 day trip, and when I got back we received a big shipment from India.
We have added 10 new styles of handbags from new suppliers. They build on the theme of Indian origins, using rich fabrics and embellishments like embroidery and crochet. You can see all the new bags here.
We have also restocked our chain selection, which was quite depleted by the time I left for Thailand. You can see all our chain here.
Lantern season is upon us, and in honor of the summer parties about to unfold we have added six new star lamp designs. In addition, we have a big inventory of Vietnamese silk & bamboo lanterns. Later this month we'll be getting a new shipment of Japanese paper lanterns in various styles.
There are also a handful of new jewelry designs from both India and from Thailand. We will be adding more shell jewelry as soon as the shipment clears customs. You can see the new jewelry additions here.
We'll be adding even more new jewelry items later next week, so be sure to check back! Here is a link to everything added since the last newsletter.
If you have any questions or special requests, please email me. We also do custom orders and offer discounts for larger orders of individual designs.
---
Article: Summer and Fall Trends
Summer is just a couple of days away, but for many retailers it has already arrived. The warming temperatures put customers in that summer frame of mind long before the actual start of the season. With the end of the school year upon us, many already have their eye

This season look for trends from spring to continue with a sultry attitude. Long necklaces will still be strong with accents of lace and crochet elements. Big links in chain, big beads, leather cord, and organic materials like Shell, wood, coral, pearls are also strong. The funky looks of large ring shapes in both necklaces and earrings, as well as subdued colors in jade green, pale pink and and off white are what people want. Bold statement jewelry with large stones, shell and wood are also popular, with big bangles, tasteful bling rings and gypsy influenced pieces continuing to be strong.

For purses and bags, the hobo shape is still predominant but in a variety of sizes and interpretations. Moving forward into fall, the hobo will begin to lose some of its cachet as shapes like satchels and covered frames gain in popularity. For now though, look for styles with pom poms, lace, embellishments and crochet details in rich colors-- trends that will continue into fall. Customers want something functional and fun that will set them apart from the crowd within the broad trends of the season.

Fluid scarves with embroidery or other fine detail will add a little "oomph" to that strappy summer outfit. Jewel and spice tones are preferred over brighter colors, to match the languid mood of the season. Think New Orleans jazz on a hot July night. Flower themes, dimensional looks and crochet detail all have their place in this hot summer nights theme. A richness in both texture and in color are what people crave right now.

The color palette for Summer is one of understatement. As I mentioned earlier, subdued tones beat out brights this time around. Seafoam green, pale periwinkle, light sand and bleached yellow lend a hint of laziness to the serious business of summer fun. Off whites are preferred over true white, and now that Memorial Day is past it's time to turn on the lights!
---
Summer Trends:
Long necklaces
Crochet necklaces
Shell, wood, coral, pearls
Velvet and brocades
Hobo bag shapes
Engravings or symbolic jewelry


---
Highlights of the Site
Everything added since last newsletter
New Arrivals section has all the latest and greatest.
New silk and other textiles with more on the way!
Vietnamese silk purses cheap!
Close outs section has lots of new items.
Findings & Chain by the inch
Vintage Saris are back in stock!!


---
Hope your summer is hot and that your June sales are even hotter!!
Aloha,
Mike McGinnis
Whirled Planet
808-822-2335 tel.
888-408-0072 toll free (US only)
http://indiasilver.com/index.asp
New Arrivals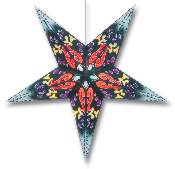 Tissue Window Star Lamp
Summer is the time for lanterns... This cool design has cut outs covered with tissue paper to create a moody stained glass look. Just $4 (electric cord is $3 extra)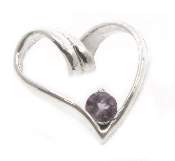 Enchanted Heart Pendant
Sterling silver pendant with prong set faceted stone. Super sweet design: $7.50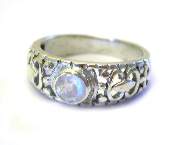 Jali Carved Band
Hand carved sterling silver band with faceted center stone. $7.75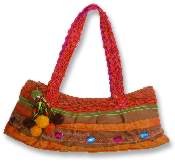 Swayback Party Purse
Handmade in India, this fantastic bag has a modified hobo shape with crochet, lace, jewels and pom poms. Lots of fun for just $11.00

June Special:
Order $150 and get a $7 credit toward shipping. This translates to free shipping on jewelry-only orders in the US. For other orders, it's a nice incentive!
Our Promise:
You may return any item for any reason. We have a no-questions-asked policy. If you get something you don't like, for any reason, just send it back!
About Us:
All our silver jewelry is guaranteed sterling (at least 92.5% silver), and whenever possible each piece is stamped to indicate this. All our stones are genuine.
Questions:
Please visit our FAQ page for questions about shipping, ordering, payment methods, etc.
Cancel:
We dislike spam as much as anyone. Please reply to this email with "remove" in the subject line to be taken off our list.
Archives:
Visit our past newsletters archived online by clicking here.