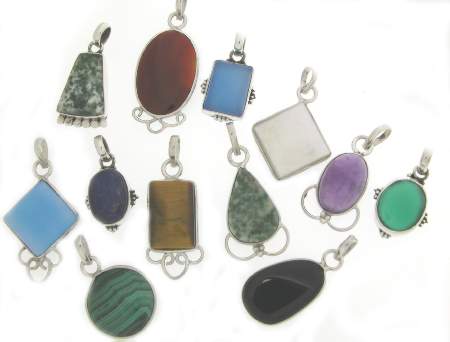 With the price of silver climbing, we've come up with a good way to provide customers with nice jewelry at a low price. We have created pendants that use thin slices of stone and lightweight silver detail. The stones are large enough to give the appearance of a bigger piece, but the lighter weight keeps the price down without sacrificing quality or appeal! These are sold by weight, but the average price is just $4, and the average size is about 1-1/2 inches tall by 3/4 inches wide. We only have a few hundred in stock, so get 'em before they're gone!
May Update
The rollercoaster continues in the silver market! You are probably tired of hearing me talk about this, but silver prices continue to linger at multi-decade highs.
The reason for the price increase is as simple as Economics 101. Increased demand drives prices up. So the silver lining to this situation is that while we may be paying more for the product, the reason for the higher price is that more people want it.
At Whirled Planet, we continue to hold existing prices in the face of higher costs. For now most of the silver on the site is priced at or near our "old" pricing. Ironically, this price is not much above our replacement cost, so the moral of the story is stock up while the prices are still low, because it looks like $14/oz. silver is here to stay.
We've added many new products to the site. You can see them here. We have a new shipment of star lamps, including some new styles and restock of best sellers, arriving on Monday, May 8.
Also on the same boat (drum roll please) are our new line of handbags! The orders placed in January have finally arrived and will be on the site next week. I am really excited about these new purses and I'm sure they will be our best line in years.
Findings have been added to the site, so if you deal in beading supplies or make jewelry, check out the new arrivals. See the findings section here.
I'm headed to Thailand on the 16th, so if you have any special requests, please email me.
---
Article: The Science of Display
You don't get a second chance to make a first impression, or so goes the saying. It's true in personal relations and doubly true in retail.

When a potential customer walks by your display, you only have a few seconds to catch their interest. How to do this? By putting your best foot forward, of course.

Visually appealing displays draw customers in, allowing the opportunity to engage and interact with you or your staff. Each situation calls for a different solution. Drive by traffic is much more challenging to engage than is foot traffic. Mall customers are presented with new stimulus with each store front while street shoppers may be distracted by items other than the next shop.

When designing your next window display, consider the goal before you start selecting products to merchandise. Are you looking to attract a specific customer, or appeal to a wider audience? What are you competing against in terms of visual stimulus? Basically, there are (at least) two schools of thought when it comes to designing your window: less is more or more is more.

Banana Republic and Laura Ashley come to mind in the former category. The windows in their stores are generally spare, often highlighting a single product or grouping. The nice thing about this strategy is that it makes an impact. There's no competition for customers' attention, no overstimulation to create confusion. The goal with this strategy is usually to appeal to a certain customer rather than a broad spectrum. This method is effective for a relatively narrow demographic like women aged 26 to 40, for example.

The more is more concept is meant to draw in a wider range of potential customers. Department stores like Macy's often use this technique to showcase the range of products in various departments. The down side is that, with a large number of products, the customer may not see anything in particular out of the presentation. With this strategy, a theme is usually necessary to make it work.

Small products like shawls, handbags and jewelry can be particularly difficult to present in displays. These products sell very well in our stores, but can get lost in the typical window set up. One of our current windows showcases our beads and beading supplies under the theme of the workbench. We took a small table and set it up with beads, tools, an open book, and a half-finished beading project to look like someone had just stepped away from a work in progress.

Another variation on this, using the less is more theme, is to present a small selection of rings and earrings in a small, central display with spot lighting. No diversions, just a simple presentation of nice jewelry pieces.

We recently lost the lease on one of our stores and had to relocate to a new space. Although it has been a tremendous amount of work, there have been several definite payoffs. Our new location boasts eight windows and double glass doors. Four of the windows don't have display space, so we created a bright, vibrant space inside with natural wood, lots of light, and spotlight areas that naturally draw the eye. Our old location was near a busy intersection, so it was hard to attract attention. We had to put displays out on the sidewalk, and quickly pull them in when it (often) rained. We left lit star lamps and lanterns in the windows at night when the interior was more visible.

In fact, our lit star lamps are probably one of the best ways to draw initial interest. We use the stars and hoi an lanterns shamelessly as eye candy. I have heard from several of our customers that they too engage in this optical guerilla warfare.

Merchandising is, literally, your window to the world. Put your best foot forward by using strategies and mixing things up on a regular basis.
---
Summer Trends:
Findings & Chain by the inch
Vietnamese silk purses cheap!
Vintage Saris are back in stock!!
Shell, wood, coral, pearls
Long necklaces
Velvet and brocades
Hobo bag shapes
Vintage or Victorian looks
Engravings or symbolic jewelry

---
Highlights of the Site
Everything added since last newsletter
New Arrivals section has all the latest and greatest.
New silk and other textiles with more on the way!
Close outs section has lots of new items.

---
Here's wishing you a warm and successful spring!
Aloha,
Mike McGinnis
Whirled Planet
808-822-2335 tel.
888-408-0072 toll free (US only)
http://indiasilver.com/index.asp