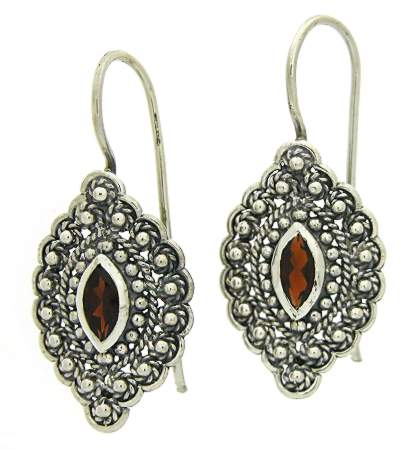 Delicately woven wire and silver granulation make this lightweight ear candy all the sweeter! Wholesale price $8.55
April Update
It's been a busy and very eventful month since our last newsletter!
We have added a ton of new jewelry designs from several great new sources. These styles are fresh and clean, and of the highest quality. I ordered them back in January, so it had been a while since I last saw these designs. When they arrived, I was once again surprised by the beauty and perfection of each piece.
The stones used are second to none, and the finishing really makes each one easy on the eyes. This new source is always an innovator with technical methods and has a real handle on quality control, something rare among Indian manufacturers.
You will also notice a new category that will have more added shortly. Click on the Fashion Jewelry category on the site to see what's new, affordable and fun!
In addition, we have posted many new designs of our latest textile additions. Spring is here, so customers will be on the prowl for lightweight, colorful accessories. We've got them in spades here.
What has also made this an exciting month has been the continued action in the silver market. Both the articles below deal with this issue in some detail, so please read on.
We also have received a restock on Vietnamese Hoi An lanterns and pouches. There are new colors and we are stocked to the gills with the best selling designs from the past. Spring and summer are a great time for lanterns as people liven things up with lighting accents, so don't miss out on this great profit center.
We have begun adding a "suggested retail" to items on our site. So many people have asked for our guidance on this that we are at last providing some direction. These prices are suggestions only, but are based in the real world pricing in our retail shops.
And last but not least, it looks like our purses are finally on the way. Our freight forwarder in Delhi has taken receipt of two large shipments, so look for new additions to this line by the end of April.
Here's wishing you a warm, sunny and profitable spring season.
---
Article: Silver Price Update, Part II
Last month we had a short article about silver prices crossing the $10 per ounce barrier for the first time in 22 years. Much has happened since then, and not much of it has been positive.
Last week, Barclay's Bank received prelimary approval from a key Securty and Exchange Commission advisory committee that sent silver to new highs... yet again. Silver closed today, April 7, at $12.05. To see the run up in silver prices, click here for an easy to understand chart.
To give an overview, silver has increased by 20% in less than one month, and are up a 33% since January 1. This has many people in the silver jewelry industry reeling. The suddenness and unprecedented magnitude of the increase has created waves of panic among silver jewelry manufacturers and cast much uncertainty into the ordering process for wholesalers world wide.
Many have adopted a "wait and see" attitude that has them kicking themselves for not buying when prices were at $10 per ounce. For those who have waited, the price rise has been the source of ever more uncertainty. Will the silver price continue to rise, or will it top out and decline? The orders I placed in January were locked in, since they were prepaid, but new orders will be at these new prices.
All is not gloom and doom, however. The arrival of the ETF (discussed in the last newsletter as a primary motivator in the current price rise) may actually send prices lower. According to Tim Evans of IRF Markets, "the introduction of commodity-oriented ETFs 'quite often occurs at market tops." The old adage "buy on the rumor, sell on the news" may be applicable here, as many speculators may well pull out once the ETF is approved. That might usher back the "good old days" of March when the cost of an ounce was "just" $10.
For an interesting article published April 7, 2006 by MarketWatch, click here.
---
Article: Selling Silver with a Higher Price Tag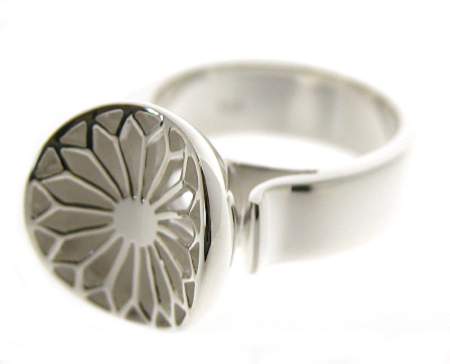 What will you tell your customer if they ask why your silver prices are "so high?"
All this talk of rising silver prices has probably got you wondering about silver jewelry and what will happen with the retail market. It's no coincidence that I have been pondering this very concept, since we sell wholesale on the web and retail in our two brick and mortar stores.
One thing I am very concerned about is how customers will react to prices that are much higher than what they are used to paying. Most customers that walk into our store have an idea what a particular item "should cost." The surroundings help determine that value: an upscale boutique can charge more than a flea market vendor for an identical product.
What I don't want to happen is, when a customer asks to see a ring, that they try it on, see the price, then say "thanks" and walk out. It is vitally important that the customer be educated about the silver market and its ramifications.
If I don't pass on the information about price increases, the customer walks out with the impression that my store is expensive.
After visiting 10 other stores with similar silver pricing, their perception of what that ring "should cost" has probably changed, but their perception of my overpriced store has most likely not been overwritten by the new information. In fact, I may have great prices, but to that customer I am the expensive place, and she tells her friends just that when my store is mentioned.
Alternatively, I could approach the situation proactively and change the customer's perception even if I don't save the sale. When she tries on that ring, I mention how the cost of silver has almost doubled in the last year. I might talk about how difficult it has been to keep retail prices down in the face of rising costs, or make a joke that that I wish I had bought a bunch before the price went up.
Two things happen in the customer's mind when I do this. First, she now has "insider information" from her local jewelry source. She may not believe me, but you can bet she will make a mental comparison at the next shop, and the next. She will also likely offer the information up during drinks if the topic presents itself by way of fashion or shopping conversation.
Second, the fact that I planted the seed with her about the price increase keeps me from automatically being put in the category of "overpriced shop." Again, she will probably check around to see if what I have said is the truth, but once my comments are proven correct she will uncheck the box marked "too expensive" in her mental checklist. With a few simple words I have saved a customer even if I have not made a sale.
And what will happen if, as some predict, silver prices go from the current $12 per ounce up to $20 an ounce? My thought is that silver is still very affordable even at that price when compared to gold. We may lose some demand, but I think the customer that buys moderately priced silver jewelry will still be willing and able to afford it even if the price goes up some more.
Previously in this newsletter, we discussed the concept of "selling with a story." It bears repeating here. When a customer asks about a particular product in our store, we present it to them for examination with a quick little snippet that explains it and makes it more appealing. "That bracelet is hand made in India." "Those earrings are from the Karen Hill Tribe in Northern Thailand. They use high content silver, so instead of 92.5% silver they use 95% - 97% pure silver." We have lots of little point of purchase displays in our store that show photos (often from the internet) of the product being made, and give a little background. With the obstacle of higher silver prices, a little story goes a long way.
For our part, we will continue to search for ways to provide quality products at a reasonable price. We are working with our suppliers to make the jewelry using less silver while still maintaining quality and appearance. On the 11 gram ring shown above, if we can make it using 1 gram less silver, we can potentially cut the price by almost 10% without any outward change in appearance or quality.
---
Spring and Summer Trends:
Shell, wood, coral, pearls
Locks and keys
Long necklaces
Rhodocrosite
Velvet and brocades
Hobo bag shapes
Vintage or Victorian looks
Old photos, postcards, promo material or stamps set in ladylike silver frames
Engravings or symbolic jewelry

---
Highlights of the Site
Everything added since last newsletter
New Arrivals section has all the latest and greatest.
Close outs section has lots of new items.
Vintage Saris are back in stock!!
New silk and other textiles with more on the way!

---
Here's wishing you a warm and successful spring!
Aloha,
Mike McGinnis
Whirled Planet
808-822-2335 tel.
888-408-0072 toll free (US only)
http://indiasilver.com/index.asp