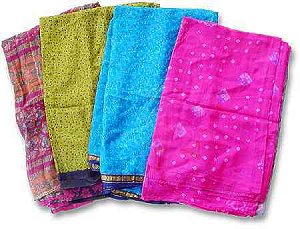 It's the return of these great sellers! Real saris from India, these are great for draping, decorating or craft projects. Previously owned, they are stunning and attract lots of attention from store customers and visitors to your home. Shipped in assorted colors/designs. 15' x 3' for $5.25
March Update
Things are getting back to normal here at our office after my trips to Asia and to Tucson. We have started receiving some of the orders I placed in India and so far it looks great.
You may notice that the pricing on some of our silver is creeping up. There is no fighting the rising price on world markets (see article below). Luckily for us I have great silver jewelry supplier that can make some of our pieces one or two grams lighter, thus somewhat offsetting the price increase without affecting quality or appearance.
This month you will see we have added a whole lot of silver jewelry at extra special prices. These items are limited stock and when they are gone, they are gone. See an example at left. What's great about these is that they were made when silver prices were much lower, so the prices cannot be beaten. See the whole range here.
In addition there are lots of new markdowns. We need to make room for all the new stuff coming in!
We have also added some great new textiles. I have only added some of what we have in stock, but will continue to update the site as we get it photographed and priced. Look to see new textiles here.
There is a lot more on the way. We just received two large orders of silver jewelry and have more in the air. Purses should be in by the end of the month and Vietnamese lanterns have just cleared customs in Los Angeles.
---
Article: Silver Price Update
March 2nd was a momentous day for silver prices on the world market. For the first time in 22 years, the price of silver closed above $10 per troy ounce. In the past year, increases in the price of silver have outpaced gold, rising more than 60%.

The new high was established on the anticipation of approval by the SEC (Securities and Exchange Commission) of Barclays Global Investor ETF Fund. What???

At present, silver in the US is sold only in its physical form. When you buy and sell silver, you are literally buying an ounce of silver. Gold on the other hand is traded both physically and as Exchange-traded funds. In an ETF, the owner of the commodity doesn't take physical possession, but rather buys and sells certificates redeemable for a specific amount of the commodity.

In 2005, the SEC approved gold ETF's, which helped gold trade at a 25 year high. With the approval of an ETF for silver, the demand for silver would increase dramatically, which many people believe would lead to a further spike in price. According to well-respected silver analyst Ted Butler, whether the ETF is approved or not, silver will continue to rise in price.

I am personally hoping that the ETF will not be approved. The Silver Users Association (SUA), and industry lobbying group, has come out against the ETF approval, citing low silver reserves and the potential for a run up in the price. I'll keep you posted on what is happening.
---
Article: Silk Manufacture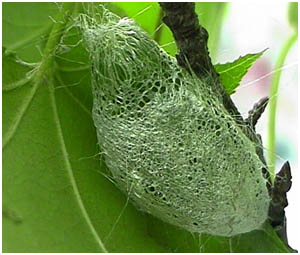 This month, we have added and will continue to add more textile products from India and Thailand. Several of the items we have gotten in are made of the highly prized Asian textile, silk.
Silk has been around for at least 4,000 years. That's a long time: iron has been used in tool making for only about 3,000 years. It is said that the first silk thread was created accidentally. According to the legend, a Chinese princess was having a cup of tea when a silk cocoon fell into the hot liquid. As she tried to retrieve the cocoon, she snagged the end of the thread and began unraveling it. Being an industrious and inventive person by nature, the princess experimented with the thread, ultimately crafting a beautiful robe for herself.
Whether this is true or not will never be known. What is certain is the allure of silk over the centuries. In ancient times, the process of obtaining and spinning silk thread was a treasured secret. Revealing the nature of the process was punishable by death.
Today, there are millions of people engaged in the production of silk. Silk worms are raised on a diet of mulberry leaves until they spin the cocoon as a natural part of their transformation from worm to moth. Unfortunately, the lifecycle is cut short by a vat of boiling water. The thread in a single cocoon measures anywhere from 500 to 1000 meters, and it must be soaked in a bath of hot water to release the silk from a binding agent called sericin.
Once the silk gum has been dissolved, the cocoon is gently brushed until a filament is loosened. The filament is then "unspun" onto a reel. Typically four strands are wound together to create a single thread. The reeling process is done entirely by hand to ensure that any breaks in the thread are attended to and repaired as they occur. It takes approximately 3000 cocoons to make a single pound of reeled silk. As you can imagine, it is a laborious and time-consuming process with minimal use of machinery.
There are many varieties of silk. Cultivated silk is preferred over wild silk, since the diet of the worm has a profound effect on the end product. Wild silk, predominantly from China or India, is more resistant to bleaches and detergents, but is also harder to dye and is thus commonly found in beiges and off-whites. Cultivated silk is more uniform and is easier to spin into thread. The silk from the inner part of the cocoon is longer and more easily spun than than the coarse silk obtained from the outside of the cocoon.
Silk is actually made of two filaments fibroin and sericin. Silk with the sericin intact is called raw silk, and is the strongest form of silk. Silk that has had the sericin removed is more lustrous and has a nicer hand. The whole process of silk manufacture has undergone many refinements, especially in the last 20 to 30 years as more machinery has been introduced. Today silk is as highly prized as ever, and comes in a huge variety of qualities and classifications.
---
Spring and Summer Trends:
Shell, wood, coral, pearls
Locks and keys
Long necklaces
Rhodocrosite
Velvet and brocades
Hobo bag shapes
Vintage or Victorian looks
Old photos, postcards, promo material or stamps set in ladylike silver frames
Engravings or symbolic jewelry

---
Highlights of the Site
We've added great prices on select designs on the site.
New Arrivals section has all the latest and greatest.
Close outs section has lots of new items.
Vintage Saris are back in stock!!
New silk and other textiles with more on the way!

---
I hope your new year is shaping up well. If there is anything I can do to help you be successful going forward, please let me know!
Aloha,
Mike McGinnis
Whirled Planet
808-822-2335 tel.
888-408-0072 toll free (US only)
http://indiasilver.com/index.asp