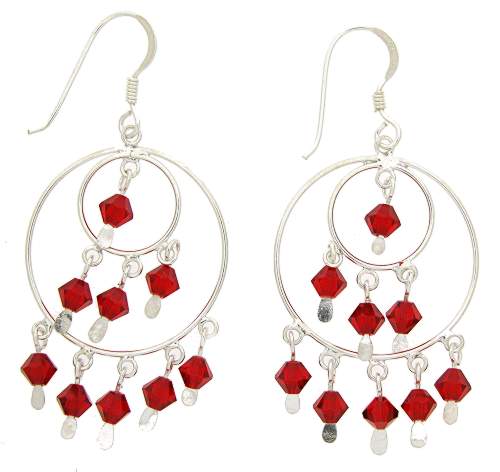 Chandelier earrings just keep on selling! These fun dangles are silver and Swarovski crystal. They come in clear crystal or in garnet crystal. Great price: $8.50
January Update
Happy New Year to you! We are kicking off 2006 with our semiannual clearance event. This sale only happens twice a year, so get it while the gettin's good. As usual, the 20% discount applies to everything on the site, including sale items, but it doesn't apply to the lowest price on rings and pendants by the gram (RGRM & PGRM) or the bulk electric cord price. It also cannot be combined with any other discounts.
In other news, I will be taking a big trip this month. I'll be stopping first in Thailand to make my usual rounds of suppliers there. I'll be looking for new designs that follow the trends forecast to continue through this summer. After Thailand, I'll fly to Laos for a couple of days to suss out some textile prospects. Laos is known for intricate silk weaving and also for Hill Tribe silver. Finally, I'll be going to a couple of cities in India to purchase new accessories and revamp our line of silver with semiprecious gems.
In February I'll be traveling to the annual Tucson Gem and Jewelry Show. It is the largest event of its kind in the world, and the magnitude is truly staggering. The entire city of Tucson becomes one large gem show, with everything from rough stone to finished diamond jewelry. Last year there were 33 different shows, each with a different theme. We won't be exhibiting this year, but I like to work the show to meet with suppliers and get a feel for what is happening in the industry.
If you are interested in attending, you can find information on the show at http://www.tucsonshowguide.com/tsg/
---
Article: Spring and Summer Fashion Forecast
For the moderately priced jewelry market, we continue to see a dominance by organic themes. Shell, wood and pearls are sure to continue to be strong all the way through this summer, so don't be shy when placing order because this one's got legs. Look for bigger, chunkier, and even gaudy styles that make a statement.
Beyond these general classifications, there are specifics to be on the lookout for. Discs and naturally shaped pendants and charms with symbols or sayings are hot. The ring shape as a pendant, with or without engraving is everywhere. There are lots of horseshoes to tie into the trendy Western accessories theme of cowboy hats, and briolette shaped gemstones done in multiples as pendants or earrings.
Important sub-themes going forward are tassels, long, chunky chain, layered necklaces, crochet and macramÈ, and believe it or not, nautical themes like anchors. The mix is a combination of 80's glitz and early 70's hippie that works sometimes but often comes together in a look that will make many ask "what was I thinking" in about 5 years.
Crochet beads and frayed ribbon accents on necklaces and bracelets add a soft and ladylike look when done cleanly. Multiple necklaces work nicely as long as it doesn't end up looking like a prosthetic device. The engraved sayings is something that is simple but lends a touch of soulful detail. Look for this as a strong undercurrent at indiasilver.com after January. We have been working on our own original designs.
Honestly, a lot of the designs I've seen going forward, including the whole anchor thing, are a bit much. Some designers are showing necklaces that look like the result of a 70's craft class gone horribly wrong. Without pointing too many fingers, trendsetters like Robert Rose and R J Graziano are a bit overboard in their spring 2006 collections with gaudy gold anchor pendants and jumbled necklaces that look more like an ox yoke than an adornment.
On the other hand, companies like Stephan & Co., and Nine West seem to get it. They incorporate the trends like organic materials, or crochet bead necklaces with simplicity and tastefulness. Me and Ro especially showcase how nicely done the whole engraving theme can be done.
As for handbags, look for the trend toward larger bags to continue. Consumers seem to like the idea of a functional carryall. Metallics continue to be strong, as well as tassels, grommets, hardware and "purse charms." The hobo is the most popular shape now and into summer. Look for bucket and satchel shapes to gain in popularity. Vintage frames, beaded and sequin details, and Western leather styles all have a place going forward. There is no classification that encompasses the overall trend, rather it is a conglomeration of the bold-gaudy, the ladylike and dainty, and the hippy/bohemian look.
Again, beware of over-the-top styles with excessive hardware, tassels, etc. since these may tend to end up in the markdown bin when the wind blows a different way.
---
Spring and Summer Trends:
Shell, wood, coral, pearls
Bohemian accessories.
Long necklaces
Layered looks
Velvet and brocades
Hobo bag shapes
Vintage or Victorian looks
Old photos, postcards, promo material or stamps set in ladylike silver frames
Engravings or symbolic jewelry

---
Highlights of the Site
We've added 40 new jewelry designs to the site.
New Arrivals section has all the latest and greatest.
Bali Style shell and organic jewelry.
Vietnamese Purses should not be missed.
Organic jewelry is hot!!!


---
Please let me know if you have any thoughts or suggestions on what we can do to improve. We are always open to new ideas and constructive criticism.
Aloha,
Mike McGinnis
Whirled Planet
808-822-2335 tel.
888-408-0072 toll free (US only)
http://indiasilver.com/index.asp
New Arrivals

Brush Stroke Spin Ring

Spinner rings are very popular. Based on a Tibetan prayer wheel, the inner portion spins independently of the outer portion, like a wheel on a hub. Cost: $5.25

Dichroic Glass Pendants

Medium to large glass pendants in sterling silver. Sold assorted. Average weight is 13 grams. Order by piece, final price is determined by weight: .90/gram. Avg. Price: $11.70
January Special:
Order $150 and get 20% off. Offer not valid on bulk lantern cords, and lowest price on pendants or rings by the gram (PGRM, RGRM). May not be combined with any other discount.
Our Promise:
You may return any item for any reason. We have a no-questions-asked policy. If you get something you don't like, for any reason, just send it back!
About Us:
All our silver jewelry is guaranteed sterling (at least 92.5% silver), and whenever possible each piece is stamped to indicate this. All our stones are genuine.
Questions:
Please visit our FAQ page for questions about shipping, ordering, payment methods, etc.
Cancel:
We dislike spam as much as anyone. Please reply to this email with "remove" in the subject line to be taken off our list.
Archives:
Visit our past newsletters archived online by clicking here.