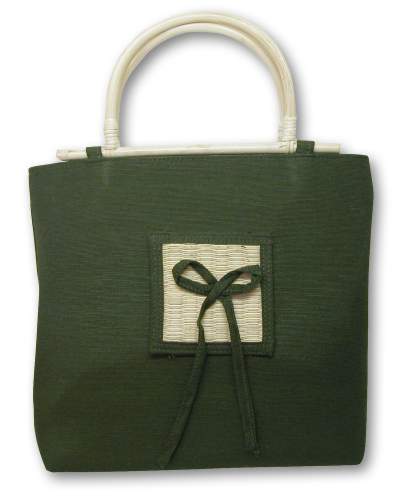 Made in Vietnam, this fun silk purse has a rattan handle and woven patch embroidered to the front. It is lined with satin, has a zip closure, zip cel pocket inside, and comes in green, black, orange or pink. Great price: $7.75
Hurricane Katrina Donation
The hurricane season is almost over, and as everyone knows it has been devastating to several US states. As promised in our September newsletter, we donated $1080 to Habitat for Humanity and their Katrina relief effort. Habitat for Humanity builds houses for people in need of housing.
Here is a link to a great site with lots of information on the various charities assisting in the relief efforts: http://www.networkforgood.org
November Update
This month marks the beginning of the Holiday season. The biggest sales month of the year kicks off the day after Thanksgiving. Being prepared is the name of the game. Nobody wants to be caught off-guard, but you also don't want to end the season with a bunch of left over merchandise.
I've got a short article below with the forecast for the 2005 season. I've also written a longer article which can be found on our site that lists several tips for ensuring success. Some of these are probably no-brainers, but others may not be so obvious.
My trip to Indonesia last month was a great success. I spent ten days living on a boat, traveling from one world-class surf spot to another! After that, I spent a couple of days in Bali. This was my first trip there, but I had some connections so I found some pretty cool jewelry.
We also got a new shipment of great handbags from our supplier in Vietnam. These purses are already selling well in our retail stores, so I can recommend them without reservation.
I am off to Thailand on Thursday, Nov., 3. I'll be continuing with the shell and organic jewelry theme. The trends call for these items to continue on through next summer, so I feel confident in buying them going forward.

Term: "Black Friday."
Definition: The day after Thanksgiving in the US.
Usage: One of the biggest holiday shopping days. The day many US consumers begin Christmas shopping. The day is heavily promoted by retailers.
Origin: The origin of Black Friday comes from the shift to profitability during the holiday season. Black Friday was when retailers went from being unprofitable, or "in the red," to being profitable, or "in the black", at a time when accounting records were kept by hand and red indicated loss and black profit.
Article: Holiday Forecast
A decade ago, starting the holiday off with a sale was unheard of. Now it is de-rigeur as competition heats up between mass marketers like Walmart, internet sellers and mom-and-pop retailers. It is estimated that internet sales will grow from $20 billion to $25 billion this season. That's a hefty chunk of change, although it actually only amounts to 5% of the total amount consumers will spend this year.
More competition, spiraling energy costs, and the busiest hurricane year on record: so what is a humble store owner to expect?
The answer, in a nutshell, is cautious optimism. According to The Conference Board, an independent economic analysis and research organization, high energy prices and the effects of Katrina and Rita are likely to take a toll on the US economy in the fourth quarter. Although these events will not trigger a recession, look for a slight slowdown until the first quarter of 2006.
But that's pretty much the worst of it. According to Richard Feinberg, director of the Purdue University Retail Institute and Center for Customer-Driven Quality, consumers will likely spend two to six percent more this holiday season. Retailers will see an actual uptick of only one to four percent though, once higher energy costs are factored in. Feinberg says we should anticipate fewer trips to the mall as shoppers conserve gas, "Retailers realize that fewer visits by consumers because of high gas prices mean they must offer bargains, sales and promotions designed to 'compel' spending."
And this season look for a shift in gift-giving practices. The answer to the questions "what do you get for the person who has everything" is "something they will appreciate." Seems like no answer at all, really, but the latest trend in gift-giving is "experience" or service gifts. Broad categories for this "gift-shift" are services like spa visits or massages, entertainment activities like movie passes, charity items gift cards the person can donate to their favorite cause, essential items like gas cards or grocery certificates, and social oriented purchases such as restaurant gift certificates.
Finally, two continuing but increasingly important categories are gift cards and cash. While the main recipients of services and gift cards will be baby boomers, teens will be the typical demographic for cash. Either way, about 20% of those purchases go back toward apparel and gifts, according to independent retail consultant Annette McEvoy during a presentation at the New York Fashion Institute of Technology.
Ultimately, despite some challenges, this season looks to be slightly better than last year in terms of overall spending. In order to get your slice of the holiday pie, be prepared: check my article on five simple steps you can take to make your holiday season more successful.
---
Five Easy Pieces to Holiday Success:
--Differentiate yourself from the competition though unique products, price points and quality staff
--Give customers a reason to come to your store: promotions, discounts, incentive plans
--Offer gift certificates
--Advertise effectively to remind customers and alert them to incentives
--Staff up so customers are attended to and feel wanted

Check out the article on our site for a more in-depth discussion of these topics.

---
Fall and Winter Trends:
Shell, wood, coral, pearls
Bohemian accessories.
Long necklaces
Layered looks
Velvet and brocades
Hobo bag shapes
Vintage or Victorian looks
Old photos, postcards, promo material or stamps set in ladylike silver frames

---
Highlights of the Site
New Arrivals section has all the latest and greatest.
Bali Style shell and organic jewelry.
Vietnamese Purses should not be missed.
Organic jewelry is hot!!!


---
Please let me know if you have any thoughts or suggestions on what we can do to improve. We are always open to new ideas and constructive criticism.
Aloha,
Mike McGinnis
Whirled Planet
808-822-2335 tel.
888-408-0072 toll free (US only)
http://indiasilver.com/index.asp
New Arrivals

Round Brownlip Shell Pend.

Rich opalescent brown shell topped with a shiny sterling silver cap. Measures about 2"x2", made in Bali. A sweet deal at just $8.00.

Fossil Ammonite Ring

50 million years old and still beautiful! This ammonite is set in a simple silver setting. Some have opal formations in the chambers. One-of-a-kind for just $12.50

Spiral Shell Bracelet

Carved shell with multiple strands of glass seed beads. In Turq. or Black, just: $4.00
November Special:
Order $150 and get free shipping in the US via Fedex 2-3 day service. Offer not valid on bulk lantern cords. Orders outside the 50 states will be credited an equivalent amount toward the cost of shipping abroad.
Our Promise:
You may return any item for any reason. We have a no-questions-asked policy. If you get something you don't like, for any reason, just send it back!
About Us:
All our silver jewelry is guaranteed sterling (at least 92.5% silver), and whenever possible each piece is stamped to indicate this. All our stones are genuine.
Questions:
Please visit our FAQ page for questions about shipping, ordering, payment methods, etc.
Cancel:
We dislike spam as much as anyone. Please reply to this email with "remove" in the subject line to be taken off our list.
Archives:
Visit our past newsletters archived online by clicking here.