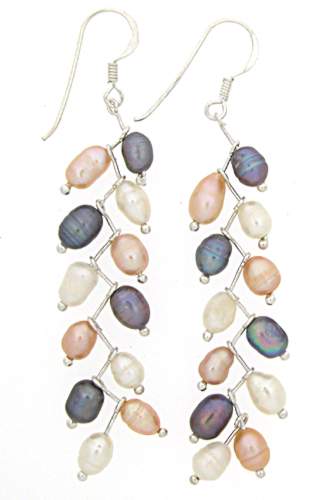 Zig zag wire wrapped pearls earring is worth more than a passing glance. Available in this two-color version or in a solid champagne-colored pearl version. Made in Thailand. Great price: $5.75
September Update
Last month I did a quick trip to Thailand. It is amazing how much you can spend in just four days when you have good suppliers! We have added over 50 new products to the site in just the last couple of days.
Our focus continues to be organic jewelry. Read the article below for some illumination on the hows and whys of this hot trend. I have included some links to background info on the web.
We also received major restocks in on many of our regular items. If there are designs you missed recently, please check the site for availability. We have another shipment in the air, so look for another restock of best sellers in the next few days.
Our philosophy is to constantly add new merchandise. This keeps the site fresh and ultimately stocks your jewelry case with the latest trends. As a result, we tend to discontinue items on a regular basis. There are certain core items that always sell, and we restock these regularly.
---
Article: Fall Trends
Opulence. That, in a word, describes the overall trend in clothing and jewelry this Fall. No t-shirts and jeans here. Put away the "basics," at least for a while. Bright colors are out, as are boring earthtones, skinny belts and plain hoops. Femininity is back in a big way.
The must have list for this season includes organic materials and rich, spicy color. Think shell, wood, coral, pearls. A quick trip through Lucky or InStyle turns up loads of funky Bohemian accessories. Big wood bangles and cuffs, shell with wood, and pearls worn in long chandelier designs all reflect this return to sumptuous decoration of the self. Chunky jewelry is especially hot. Try turquoise or amber, big faceted semi-precious stones and large pendants.
Long necklaces continue to be strong, especially in jewel tones like carnelian or amethyst. Feminine with a funky twist is a good description of what women want this fall. Big, beaded style necklaces make a dramatic statement. Eye catching crystals work well when they are done delicately and with discretion. Think gypsy hip.
Layered looks like double and tripled necklaces and bracelets are a continuing theme. Beads, charms and small details make the look. Brooches, and pendants that look like pins gain prominence.
Jewel and spice tones overrule earth tones. Fur, faux or not, is a major accent. Exotic locales like Russia serve as inspiration for rich tapestries, velvet and brocades. Funky and fun with a feminine feel is the attitude. Bohemian looks with soft shapes and relaxed lines are popular. Hobo bag shapes are a strong trend, especially with some embellishment that adds an extravagant touch. Gold, cinnamon, smoky green, and magenta purple are all colors that fit well in the palette for this season.
Look for strength in vintage or Victorian looks. Charms and pendants with cameo, satin or antique looks should do very well. Any accent that hearkens back to a more romantic time will fit nicely into the Fall feel. Old photos, postcards, promo material or stamps set in ladylike silver frames are a solid subtrend.
For more on these trends, check the links below:
Boho style article
Organic jewelry trends
Fall trends from PRWeb
Fall retail shopping advice
Chicago Sun-Times fashion overview
---
Highlights of the Site
New Arrivals section has all the latest and greatest.
Star Lamps are restocked, new styles added.
Organic jewelry is hot!!!

---
Please let me know if you have any thoughts or suggestions on what we can do to improve. We are always open to new ideas and constructive criticism.
Aloha,
Mike McGinnis
Whirled Planet
808-822-2335 tel.
888-408-0072 toll free (US only)
http://indiasilver.com/index.asp