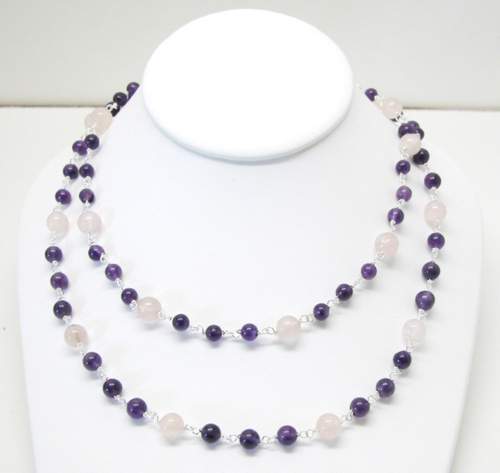 Round semiprecious beads, each wire wrapped by hand, are strung in this latest version of extra long necklace. Shown in amethyst with rose quartz, it can be worn as a sweeping single strand, double up as a layered two-strand, or twisted on the wrist as a fun multi. Also in carnelian. $17.25 ($13.80 after 20% discount!)
Semiannual Sale
Twice a year, in January and July, we offer our best discounts of the year. Normally you would need to order $2500 to get the sort of discount we offer this month. Many of our customers hold off a bit in June just so they can have extra cash available for this sale.
Don't miss out on this twice a year opportunity to save. The 20% discount applies to everything on the site except the lowest price on pendants and rings by the gram, and the bulk price for electric lantern cords. New arrivals, sale items and close outs are all 20% off.
We've added some new items to the site this month, including the necklace shown at left. It comes in amethyst with rose quartz, or in an all carnelian version. Long necklaces are all the rage, and this is our newest foray into the realm of extra long.
We just got a new shipment of star lamps in, so check the site for over 50 designs. We have also gotten a new shipment of the Indian hanging lanterns in. These are a great assortment, they sell well and the price is just $2.75 per lantern (cord not included).
Shell jewelry is everywhere: on the streets, in the magazines. Don't miss out on this hot trend that is forecast to last through Christmas at least! We've got lots of shell and mother of pearl.
---
Article: Jewelry Terms
Here is a list of common terms used in the jewelry business. Many of them may be familiar to you, but there may be one or two that are new. Hope this is helpful.

Sterling Silver
Refers to the content of silver used in jewelry and bead manufacture. Also called "925," the content of most silver jewelry is at least 92.5% silver to qualify as sterling. Only rarely will you find higher content than 92.5%, since manufacturers are usually competing on price, so more silver content adds to price but not to quality. The except to this rule is Hill Tribes silver, from Northern Thailand. Since the Hill Tribes use only the most basic of tools, higher silver content makes for softer and more easily manipulated silver.

Karat Gold
Like silver, content provides the basis for the classification of gold jewelry. Gold percentages are defined in karats. 24 karat gold is pure gold, 12 karat gold is 50% pure, 18 karat is 75%, etc.

Gold Fill
A layer of karat gold is bonded to a base metal through heat and pressure. When used to create wire, the gold is formed into a seamless tube around a base metal core, which is usually brass, and then drawn out to the desired thickness. The finished product has a fairly thick outer layer of karat gold, is very durable, and is considered a lifetime product. The gold layer of 14K/20 will not wear off with normal wear, as it will with gold plate. 14K Gold Filled produces a strong wire with all of the advantages of 14k gold. It requires the same care as jewelry produced from 14K gold and is suitable for making heirloom jewelry - at a fraction of the cost of 14K solid gold. As the base metal is completely covered by a durable layer of 14K gold, allergies to the base metal are not a problem.

Gold Plate
Plating puts a microscopic layer of gold on a base metal. The layer of gold is measured in microns (µ). The various terms may use different techniques, but the primary differences between them are the minimum thickness of gold required to be deposited - ~ Gold Plate - .5 microns (approximately 20 millionths of an inch) ~ Heavy Gold ElectroPlate - 2.5 microns (~100 millionths of an inch) ~ Gold Electroplate - .175 microns (~7 millionths of an inch) ~ Gold Washed or Gold Flashed - less than .175 microns thick

Gold Vermeil
Vermeil is gold plate sterling silver. Usually the layer of gold is at least 2.5 microns thick. Vermeil tends to wear through to the base metal more easily than gold plate, since it is "dipped" rather than mechanically applied like gold plate.

Gem/Gemstone
There is no generally accepted definition for gemstones, but they all have one thing in common: there is something about them that makes them special. Sometimes it is color or texture, other times it is what they are or what they represent. Gemstones come in all sorts of flavors. There are minerals (e.g. diamond), mineral aggregates (jade or turquoise), or less commonly rocks (lapis lazuli). Some are organic in nature (amber, petrified wood), some are even synthetic.

With no clear demarcation line, the term gemstone can include anything used for ornamentation purposes. In this definition, gemstones may include wood, coal, bone, glass and metals. Ultimately, if it is pretty and used for adornment, odds are someone will consider it a gemstone.

Semi-precious Stone
Refers to the less valuable category of stones used in jewelry and gemology. Specifically, it is easier to define stones that are not in this category than those that are in it, since the category is so broad. Precious stones like diamond, emerald, sapphire, etc. are classified as precious gems, hence they are obviously excluded. Architectural stones like marble and granite, as well as rocks like basalt or limestone are also not members of this group. Generally a stone is considered semiprecious if it is generally accepted as such. Semiprecious gems include stones like garnet, amethyst, moonstone, lapis lazuli, jade, onyx, etc.

Crystal
Crystals are uniform structures, ordered at the smallest scale (atoms or molecules) into a geometric latticework. Examples of crystals are quartz and amethyst.
---
Highlights of the Site
New Arrivals section has all the latest and greatest.
Star Lamps are restocked
Shell jewelry is hot!!!

---
Please let me know if you have any thoughts or suggestions on what we can do to improve. We are always open to new ideas and constructive criticism.
Aloha,
Mike McGinnis
Whirled Planet
808-822-2335 tel.
888-408-0072 toll free (US only)
http://indiasilver.com/index.asp
New Arrivals

Beaded Stamp Pendant

An assortment of reproduction stamps, set behind glass in a silver frame. Shipped in assorted images and frames. Click on link to see some samples. Size varies, about 1.5" x 1". Price: $8.00 ($6.40 after 20% discount!)

Free Shape Amber Bracelet

Toggle closure, adjustable from 7.5" to 8.25". Avg. weight is 25 g. Large stones measure about 3/4" x 1/2." Each bracelet is unique. Sold by weight at 90 cents per gram, average price is $22.50 ($18 after 20% discount!)

Embroidered Star Lamp

Five point star with swirling embroidery pattern. Our best selling star, available in white, lilac, royal blue, and now in black or burgundy. Price $7.50 including cord. ($6 after 20% discount)
July Special:
Order $150 and get 20% off your order! Discount not available with any other discounts, not applicable to Rings and Pendants by the gram or to bulk electric lantern cords.
Our Promise:
You may return any item for any reason. We have a no-questions-asked policy. If you get something you don't like, for any reason, just send it back!
About Us:
All our silver jewelry is guaranteed sterling (at least 92.5% silver), and whenever possible each piece is stamped to indicate this. All our stones are genuine.
Questions:
Please visit our FAQ page for questions about shipping, ordering, payment methods, etc.
Cancel:
We dislike spam as much as anyone. Please reply to this email with "remove" in the subject line to be taken off our list.
Archives:
Visit our past newsletters archived online by clicking here.