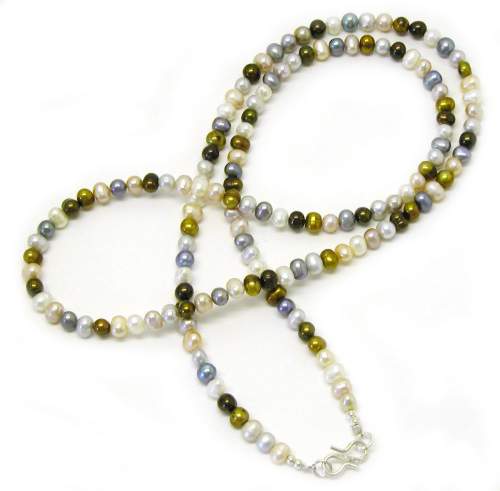 A rainbow of rich color in this 36" long pearl necklace. Wear it as a long single strand, double as a multi-strand necklace or wrap it around a wrist as a stylish bracelet. $9.50
Textiles and Shell
Last month I mentioned I would be taking a trip to Thailand. My four day jaunt was a big success. My goal was to restock some of our existing items and to find new products that fit with trends going forward. I found some great new items that I know will be a big hit.
In addition, we got several large shipments of textiles in that I had ordered back in January. These included some fun new purses, sarongs, and a cute wraparound skirt. Not everything is on the site yet, but we have added over 50 new items since our last newsletter.
Below I have written an article that outlines some of the key trends going into summer. We have bought heavily into the organic and natural materials trend, the Bohemian theme, and the vintage 30's and 40's pendants. Hopefully you will find something on the site that fits your needs.
I'd like to encourage you to browse our site if you haven't done so recently. It's got a fresh, updated look, easy navigation and lots of new product. I might also mention that we have been working hard with suppliers for discounts and we have lowered our mark up to make for great deals.
---
Article: Summer and Fall 2005 accessories trends
When it comes to trends, nobody seems to be as on it as Accessories Magazine.* If you don't subscribe to this useful publication, you are missing out on a valuable resource. They have access to the top accessories manufacturers worldwide, so their forecasts are reports on actual production, not just rumors and speculation.
You could spend thousands of dollars on trend reports from consultants, or you can keep your finger on the pulse by poring over and dog-earing each issue. What I like are their semiannual direction reports where they show actual examples of upcoming styles as created by names like Nine West, Liz Claiborne, Hollie Yashi and more. They list key concepts, palettes, materials, and fabrics using photos and sketches.
What follows in this article is a distillation of their reporting from the last six months. I like the fact that they give directions about six months ahead of time, but for retailers this is probably a little too much lead. Most of the boutique retailers I speak to don't buy that far in advance. It is good to know where things are headed so that when one of your suppliers comes to you with something in the trend, you can order it and have confidence it will sell through.
For Summer we are looking at several key trends that tie into one another. Retro continues with Summer's focus on Bohemian and Hippie type looks. Organic materials and designs fit in with this direction. For jewelry this means an emphasis on stones like coral and turquoise, as well as shell, pearl and wood. Rich browns, deep reds and pale blues are strong, as are longer length necklaces that can be doubled up or worn as a long single strand. You may already have noticed women in your area accenting with these themes. Chunky is big (no pun intended!), as is layering several necklaces or necklaces with multiple strands. Linear chandeliers continue in clean designs, especially with the colors mentioned previously and organic materials.
Charm bracelets and necklaces, while strong for the last several seasons, make a big statement in Summer and Fall. Feel good themes that recall the past are popular, with special emphasis going into Fall on vintage circa 1940. These items will include photo pendants and charms with old magazine, fashion, photo and postcard images from pre and post WWII. Cameos and brooch pendants will also gain prominence in Fall, and shell will continue to be a major trend.
Textile are hippified to a certain extent as well this Summer and Fall, with macramÈ and loosely woven fabric that feel good in the hands being popular. This Summer look for pastels and jewel tones in turquoise, pink or green, and anything that lends itself to an ethnic, gypsy type look. Yarn and meshy looks are important. Heading into Fall,velvet, satin, appliquÈ and embroidery (again the 1940's theme) will claim the spotlight as it starts to get cooler.
*We are not affiliated with Accessories Magazine, we make no commission or profit from the sale of their magazine. They probably have no idea who we are!
---
Follow-Up: Textile floodgates closing slightly
Last month I talked about the removal in the US of certain textile quotas from WTO countries. As you might recall, the predictions were that all hell would break loose in the absence of annual quotas which had previously placed limits on the quantities of textile products foreign countries were allowed to export to the US. Most experts felt that China would flood the US market with cheap clothing, followed closely by India.

Last month, with the US textile industry screaming bloody murder, the US government announced it was reinstating limits on imports of certain textile goods (like denim jeans and cotton T-shirts) in the face of a huge surge in exports from (drum roll please): China. Using a WTO guideline that allows for limits on Chinese goods in extreme cases, the US has once again installed quotas on key textiles. The US textile industry wants more protection, but for now the US seems to have put a finger in the dike to at least slow the dramatic increase in Chinese fabric products.

Ultimately this will mean that in the third quarter of this year, US wholesalers will need to look beyond China to fulfill orders for the busy Holiday season. China will have filled the quotas by that time and some larger importers like Walmart will need to obtain goods elsewhere. This will not be difficult, nor will it add much in terms of cost of goods, but it will mean that the Chinese will continue pushing hard in the WTO to have the limits removed. Should be interesting to see how things turn out.

For more on this, click here.
---
Highlights of the Site
New Arrivals section has all the latest and greatest.
Hoi An Lanterns are restocked
New Purses are in
New Sarongs and textiles
New cushion cover designs
Coming in June: more stamp pendants, star lamp restock and new designs

---
Please let me know if you have any thoughts or suggestions on what we can do to improve. We are always open to new ideas and constructive criticism.
Aloha,
Mike McGinnis
Whirled Planet
808-822-2335 tel.
888-408-0072 toll free (US only)
http://indiasilver.com/index.asp