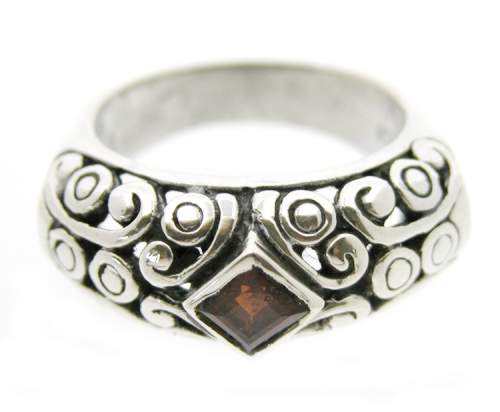 Beautiful ring with curving organic design suggestive of the blowing wind. Weighs about 7 grams, made in India. Available in Garnet. $7.25
New Look, New Items...
In April we finished the overhaul of our site. I hope you will find the new look appealing and more user-friendly.
Last month we added many new designs, including some really cool new Bali-style rings. The Balinese are known for their intricate detail work. They use intricate scroll and filigree designs to enhance natural shell and coral focal points. We have taken this concept a step further by marrying the Balinese look with Indian stones and craftsmanship. Check out the new Bali-style rings here.
We've also added a couple more necklaces from designer Michelle Gosdis. Based in Utah, she has a real eye for color and texture. We're producing her designs in India, so the prices are great too!
Check the site for a re-stock of our very popular Hoi An Lanterns. We've got four shapes each in several colors. In the same shipment we got more of the evening mini purse and the silk runaround, two of the best selling hand bags we've ever had.
Also arriving this week are the long-lost textiles I ordered in January. We will have these up in the next two weeks, as they still need to clear customs. Look for a bunch of new scarves, sarongs and handbags that will reflect current trends but with an Indian flair.
On Thursday this week I will be doing a hit and run to Bangkok. It takes me 18 hours each way, and I will stay only for three days! I'll be re-stocking Hill Tribes silver rings and pendants, as well as textile products like silk scarves and possibly some skirts.
---
Article: Textile Free For All
Laissez Faire: Free trade. When I was in college, this was explained as one of the pillars of the American economy. With true free trade, government intervention is non-existent, borders are porous in both directions and the market sets its own price. In actual fact, unbridled free trade has all kinds of problems. Without government intervention there would be no limits imposed on what could be sold. Imagine the corner store selling grenade launchers and Viagra of questionable origin from Thailand.

The American government has grown more and more involved in the oversight of trade for several reasons. In limiting what can and cannot be sold it often serves as a safeguard for the public against dangerous items like grenade launchers and harmful drugs like heroin. Perhaps equally important, government regulation of imports helps to protect American business. Goods coming into the US are checked for copyright protection, false labeling (UL listing for example) and are classified by category for duty and quota purposes.

In addition, our government and the governments of other countries has placed limits and protections on items it deems worthy of protection. A good example of this is steel. Steel is now produced cheaply in countries like Korea and China. Were steel allowed unhindered entrance into the US, the US steel industry (already on the ropes) would collapse in the face of foreign competition. As a protection for American business, our government limits the quantities of foreign steel that may be imported in any given year. It also levies a duty on imported steel that artificially increases the price to effectively make American steel competitive in price. The government may also subsidize certain segments of the economy (peanut farmers, for example) to help them remain economically viable.

The up side of this is that American jobs in all sorts of industries from agriculture to manufacturing are protected from cheap foreign imports that rely on cheap foreign labor. On the down side the American consumer pays more at the cash register because government duties ultimately increase the retail price of everything from cotton t-shirts to automobiles.

In January, the US followed through on its commitment to the World Trade Organization to eliminate quotas on textile goods from abroad. In fact, textile quotas were eliminated among all of the WTO members, including China and India. Duties remain in effect, so the effect on prices may be somewhat limited at least initially. The average duty on textile products is about 25%. It has been estimated that American consumers pay an extra $50 to $60 billion dollars a year as a result of import tariffs.

For our company, the elimination of quotas is a huge plus. We have had problems in the past getting goods into the country. As the end of the year approached, quotas from India for certain categories like women's cotton skirts would be full. If we wanted to bring in items that were over the quota, we either had to source from another country or wait until the next year's quota to open up.

There were also more barriers imposed by the quota in terms of paperwork and regulation. We were forced to pay extra in the country of origin and in the US to our customs broker in order to process the quota paper work.

It should be noted that the quotas were not given up without a fight from the American textile industry. Ultimately, after court battles and intense lobbying, the US mandated the elimination of the quotas per the agreement with the WTO. Had the US not complied, it would have faced sanctions and intense pressure from other WTO countries.

Consumers can expect to pay less at the cash register for clothing as cheap Chinese and Indian textiles, no longer limited by quotas, supplant more expensive alternatives from within the US and from "middle class" countries like the Philippines and Malaysia. Duties will remain in place for the foreseeable future, but even that may change: there is growing pressure on "rich countries" like the US and EU countries to eliminate duties and subsidies. If that happens, expect to see a substantial drop in wholesale and subsequent retail prices.

For more info, see this article by Edward Gresser, Director of the PPI Project on Trade and Global Markets.
---
Highlights of the Site
New Arrivals section has a cool handful of Bali style rings.
Hoi An Lanterns are restocked
Vietnam Purses are Restocked
Coming in May: new star lamps, handbags, scarves, cushion covers and picture pendants.


---
Please let me know if you have any thoughts or suggestions on what we can do to improve. We are always open to new ideas and constructive criticism.
Aloha,
Mike McGinnis
Whirled Planet
808-822-2335 tel.
888-408-0072 toll free (US only)
http://indiasilver.com/index.asp